Uwaga kucharze z okazji Dnia Matki: te przepisy to świetna opcja, jeśli chcesz obsypać ukochaną osobę pysznością na Dzień Matki — bez względu na to, czy woli słodkie, słone… czy z dodatkami, jak ja. Życzę wszystkim mamom i mamom-figurkom wspaniałych świąt!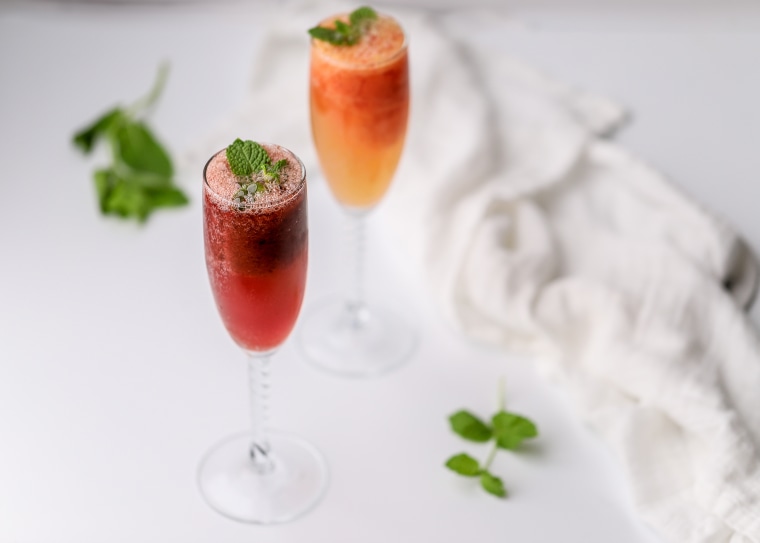 Brunch jest synonimem mimoz, ale ta klasyka może też uchodzić za deser. Jest grzesznie słodki, figlarnie musujący i staje się jeszcze smaczniejszy, gdy sorbet miesza się i rozpływa w szampanie. To jak błoto dla dorosłych. Najlepsza część? Przepis wymaga tylko dwóch składników — mrożonych owoców i szampana. Poza tym nie ma ani kropli dodanego cukru. Można również łatwo przekształcić ten sypper z sorbetem w napój bez alkoholu, zamieniając szampana na ulubiony sok owocowy lub aromatyzowaną wodę gazowaną.
Jeszcze jedna sugestia: czasami wrzucam do blendera około pięciu listków mięty wraz z mrożonymi owocami i szampanem, aby uzyskać świeżą miętową, chłodzącą mimozę. To dobry sposób na wyrównanie smaku. Ten przepis daje około 1½ szklanki sorbetu, a każda szklanka wymaga mniej niż 1/4 szklanki, co oznacza, że ​​zostanie ich mnóstwo do schowania w zamrażarce, gdy poczujesz ochotę na sorbet!
Zdobądź przepis tutaj.
Moje gofry z cukinią i marchewką (z pikantnym syropem klonowym lub bez) to przepis, który pokochasz podczas całego brunchu! Gofry są wilgotne i aromatyczne, a starte warzywa tworzą kolorowe konfetti, które dodaje radości każdemu kęsowi. Świeże zioła kradną show, a możesz użyć dowolnych aromatycznych zielonych klejnotów, które łaskoczą twoje kubki smakowe. I chociaż bardzo polecam polewanie mojego syropu klonowego Sriracha na wierzchu – który wypełnia każdą kieszeń uzależniającym słodkim ciepłem – możesz również zdecydować się na zwykły syrop klonowy lub porcję jogurtu.
Więcej smacznych przepisów znajdziesz w książce kucharskiej Joy "Superfood Joy Bauera!"i podążaj za nią dalej Instagram, Facebook oraz Świergot.
DZIŚ ma relacje partnerskie, więc możemy otrzymać niewielki udział w przychodach z Twoich zakupów. Produkty są sprzedawane przez detalistę, a nie do DZIŚ.